Home » NOUTÃŢI
Jackie Chan renunţă să mai joace în filme de acţiune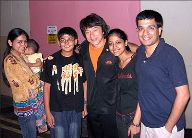 In eterna cautare a succesului, vedeta internationala Jackie Chan a acceptat rolul unui infractor in cel mai nou film al sau, "Shinjuku Incident". Intr-un interviu acordat Media Corp. News, Chan a dezvaluit ca urmatorul lui film ar putea fi ultimul film de actiune in care mai joaca. Actorul a mai adaugat ca a sa colectie de antichitati pe care o va dona la 4 universitati din Singapore va fi facuta dupa ce constructia campusului acestora va fi finalizata, in 2 ani de zile. In "Shinjuku Incident", Chan interpreteaza un imigrant chinez in Japonia ce devine liderul unei triade din lumea interlopa. Acest rol se deosebeste de cele din trecut, cand interpreta, de obicei, personaje precum politisti sau eroi.
Chan a mai spus ca intotdeauna dorea sa incerce si altfel de genuri in afara de actiune, insa companiile de productie mereu il restrictionau. "Cand am vrut sa fac "King of Western Chu", compania a spus "nu"; cand am vrut sa fac "A Touch of Class", compania a spus tot "nu". Cand am vrut sa fac "Farewell My Concubine", compania a spus din nou "nu". Ideea mea de scenariu inca implica actiune. La sfarsitul acestui an se va lansa un mega-film de actiune; acesta ar putea fi ultimul meu film de acest gen", a spus acesta.
Deoarece varsta incepe sa-si spuna cuvantul (in prezent Jackie Chan are 54 de ani), super-starul a invatat sa se deschida celor din jurul sau. Acesta este motivul pentru care a ales sa-si doneze colectia de antichitati si sa aduca o contributie societatii. Donarea colectiilor si a bunurilor lui va fi facuta in Shanghai si Singapore. In Shanghai, actorul detine pamant si 3 case. Acestea nu se vor numi "Muzeul Jackie Chan", ci "Arhiva de filme Jackie Chan". Imobilele din Singapore, cu tot cu antichitati, vor fi date in folosinta in scop educational, ca sali de studio, biblioteca, centru de recreere sau sala de lectura. De asemenea, in ele li se vor preda studentilor date despre cultura Chinei.
Jackie Chan se va afla saptamana viitoare in Singapore, pentru a-si promova filmul "Shinjuku Incident" si pentru a discuta cu Ministrul Educatiei despre detaliile donatiei care se va produce in unul sau doi ani.
Articol realizat de cris999 © www.asiacinefil.com