Home » NOUTÃŢI
Inoue Mao şi Matsumoto Jun îşi anunţã logodna !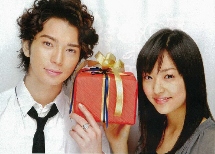 Inoue Mao, in varsta de 27 de ani, care va juca in serialul "Hana Moyu" si Matsumoto Jun, in varsta de 31 de ani, ce face parte din bine-cunoscuta trupa Arashi, au atras foarte multa atentie in jurul lor datorita anuntarii logodnei care se pare ca va avea loc la sfarsitul acestui an ! "Se pare ca Johnny's Jimusho (numele agentiei japoneze) care a fost impotriva relatiei celor doi a acceptat pana la urma acest fapt. Nunta celor doi va avea loc dupa ce se vor incheia filmarile la serialul in care joaca Inoue. Relatia celor doi dureaza de aproximativ noua ani."
Matsumoto si Inoue s-au intalnit pe cand filmau impreuna la un serial care a fost difuzat in 2005, celebrul "Hana Yori Dango". "Erau vazuti impreuna de multe ori, dar pentru ca Johnny's Jimusho se opunea total relatiei celor doi, majoritatea revistelor erau presate sa nu scrie despre ei."
Au existat si zvonuri despre o noua poveste de iubire intre Matsumoto Jun si Yukie Nakama, care a jucat in "Gokusen" si "Ooku: The Movie". "Nakama il invita pe Matsumoto la masa acasa la ea, insa nu erau intalniri romantice. In afara ei au mai fost zvonuri despre Matsumoto Jun, cum ca s-ar intalni cu Kou Shibasaki si Naka Riisa, dar Inoue era cea care i-a castigat inima actorului si cantaretului."
In 2013 au fost publicate stiri conform carora Matsumoto Jun si Inoue Mao au participat impreuna la casatoria actorului Shun Oguri (si el membru al echipei de actori din "Hana Yori Dango") cu Yamada Yu, in Hawaii. "Mai mult de atat, vicepresedintele executiv al unei companii de imbracaminte care a fost si el invitat la ceremonie a scris pe blogul sau: 'Am fost prezentat lui Inoue Mao chan si Matsu Jun." La scurt timp, acea postare a fost stearsa. Au existat si stiri clare despre relatia cuplului in revistele saptamanale, dar acelea au fost inlocuite cu imagini cu Arashi." (probabil la interventia companiei Johnny's). Cu toate acestea povestea lor de dragoste a continuat.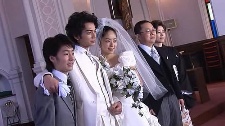 "In acest an, Arashi va fi gazda Kouhaku Uta Gassen (o celebra emisiune muzicala ce are loc la sfarsitul fiecarui an si care este produsa de postul japonez de televiziune NHK). Cu o zi inaintea difuzarii emisiunii de anul trecut cuplul a fost vazut in compania lui Oguri, in oras. Se pare ca atunci cele doua cupluri au devenit mai apropiate. Matsumoto si Inoue poarta fiecare pe degetul sau cate un inel de la faimoasa firma 'Boucheron'."
Matsumoto Jun a inceput sa devina cunoscut ca actor in 2002 cand a jucat alaturi de Shun Oguri si Yukie Nakama in primul sezon din "Gokusen", reusind sa castige premiul pentru Cel mai bun actor inntr-un rol secundar la cea de-a 33-a editie a Television Drama Academy din Japonia. In 2003 il juca pe Momo in "Kimi wa Petto", cu un scenariu dupa o celebra manhwa, iar in 2005 avea sa accepte rolul cel mai cunoscut in cariera actorului de pana acum, in serialul "Hana Yori Dango", in care a jucat alaturi de Inoue Mao, Shun Oguri, Shota Matsuda si Tsuyoshi Abe. Datorita succesului fantastic de care s-a bucurat serialul, acesta a avut o continuare in 2007, iar mai apoi a jucat in "Bambino!". A urmat "Smile" si apoi in 2012 "Lucky Seven" care a avut o continuare in 2013. Pe marele ecran avea sa joace in filmul "Hana Yori Dango" si in "Girl in the Sunny Place".
In afara seriei "Hana Yori Dango" actrita Inoue Mao a jucat in "First Kiss", "Hanaikusa", "Anmitsu Hime", "Ohisama" si "Hana Moyu" in 2015. Pe marele ecran a jucat in filme precum "I Give My First Love To You", sau "The Snow White Murder Case", intre cele mai cunoscute.
(Sursa: anatajapan)
Articol realizat de chocolate_cleo – asiacinefil