Home » NOUTÃŢI
În 2017, Ursul de Argint a mers în Coreea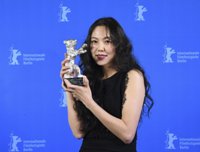 Sase filme coreene, inclusiv filmul regizorului Hong Sang-soo, au fost prezente la Festivalul International de Film de la Berlin din acest an. Filmul "On the Beach at Night Alone" al lui Hong Sang–soo a intrat in categoria principala de competitie, iar alte cinci filme au rulat in cadrul altor sectiuni. Un total de 18 filme au concurat pentru Ursul de Aur la cea de-a 67-a editie. "On the Beach at Night Alone" este al nouasprezecelea film al regizorului si a treia incercare la Berlin, dupa "Night and Day" (2008) si "Nobody's Daughter Haewon" (2013). Este primul film coreean care avanseaza in categoria de competitie a Festivalului, in patru ani. Kim Min-hee a mai fost invitata in 2016 la Festivalul de Film de la Cannes pentru rolul mostenitoarei Lady Hideko din "The Handmaiden", regizat de Park Chan-wook ("Old Boy").
In plus, patru filme dintre care doua clasice ("The Last Witness" din 1980, regizat de Lee Doo-yong si "Obaltan" sau Aimless Bullet din 1961, regizat de Yu Hyun-mok) si "Autumn, Autumn," din 2016, cu Jang Woo-jin precum si "Twelve," un scurt metraj din 2016 al lui Cha Jea-min, au fost prezente in categoria Forum. "Becoming Who I Was",un documentar din 2016 de Moon Chang-yong si Jeon Jin, a fost ales pentru sectiunea Generatie.
Actrita coreeana Kim Min-hee a castigat Premiul "Cea Mai Buna Actrita" la cea de-a 67-a editie a Festivalului, fiind prima actrita coreeana care castiga Ursul de Argint si prima actrita ce castiga un premiu in 10 ani, in cadrul unui festival european de film, dupa Jeon Do-yeon care a castigat la Cannes cu rolul din "Secret Sunshine". "Sper ca acest film sa emotioneze pe cei ce il vad. Sunt foarte mandra de acest rol", a declarat actrita in discursul sau. "Vreau sa multumesc celor care au contribuit la acest film. Premiul primit se datoreaza regizorului Hong Sang-soo. Te respect si te iubesc." Asa si-a incheiat actrita discursul, in ciuda criticilor celor din Coreea, aduse celor doi, dupa ce Hong Sang-soo si-a parasit sotia si cei doi copii, in iunie anul trecut, pentru a fi cu Kim Min-hee. Regizorul a inaintat cererea de divort care a fost refuzata de sotie. Cei doi au aparut oficial, in public, pentru prima data la o conferinta de presa pentru Festival.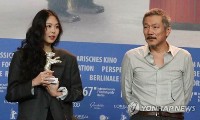 Povestea filmului este si mai deranjanta pentru o parte din coreeni, pentru ca pare foarte similara cu povestea actritei si a regizorului, explorand sensul iubirii printr-o relatie neconventionala. "On the Beach at Night Alone" spune povestea unei actrite pe nume Young-hee care rmediteaza la legatura sa cu un barbat casatorit, in timp ce bea alaturi de prietenele ei, intr-un mic orasel de pe malul marii, dupa intoarcerea dintr-o excursie in Germania.
Kim Min-hee a debutat ca actrita in serialul "School 2", in 1999. A obtinut primul rol principal in serialul "Age of Innocence", din 2002. Fiind criticata pentru performantele nu tocmai convingatoare, actrita a fost cunoscuta mai mult pentru stilul sau de moda (fiind in trecut fotoodel). In 2012 si 2013 primeste critici favorabile pentru rolurile din "Helpless" si "Very Ordinary Couple", iar in 2016 face senzatie cu rolul mostenitoarei din "The Handmaiden".
Filmul va fi prezent in cinematografele coreene din luna martie. In film joaca Kim Min-hee, Jung Jae-young, Kwon Hae-hyo, Song Seon-mi si Moon Seong-geun.
Un alt succes pentru cinematografia asiatica a fost inregistrat in noaptea Oscarurilor, regizorul iranian Asghar Farhadi castigand Oscarul pentru Cel mai bun film strain cu "The Salesman".
Articol realizat de chocolate_cleo – asiacinefil