Home » DIVERSE
House of the Disappeared (2017) – Kim Yunjin şi Ok Taek-yeon dezleagã misterul unor dispariţii…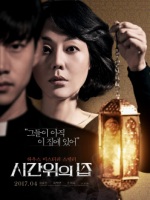 Intr-un aparent acces de furie, Gang Mi Hui (Kim Yunjin) isi ucide sotul, un detectiv de politie, cu un cutit. Pentru fapta sa e condamnata la 25 de ani de inchisoare, fiind despartita si de fiul ei, Hyo Jae, ce dispare in mod misterios, probabil ucis si ascuns de propria ei mama. Inainte sa-si fi ispasit intreaga pedeapsa, aceasta primeste acceptul de a sta arestata la domiciliu, zilele fiindu-i numerate datorita unei boli incurabile. Drept urmare, aceasta revine in locuinta pustie si spatioasa in care locuia inainte de tragedie. Amintirile unei vieti fericite alaturi de familia sa ies inevitabil la suprafata: casatorita cu detectivul Kim, locuind de un deceniu in casa noua cumparata la periferie, avand doi baieti ce fac mereu nazbatii, Mi Hui parea sa aiba totul. Sa fie chiar asa ? Disparitia fiului mic declanseaza tragedia in familie, iar la scurt timp evenimente misterioase incep sa se petreaca in casa…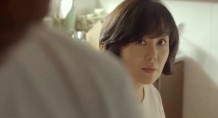 "House of the Disappeared" e un thriller de mister cu usoare accente horror regizat de Lim Dae-woong, un regizor coreean ce nu e strain de genul mister-horror, debutand in 2006 cu un film horror apreciat, "To Sir With Love" si regizand un segment din seria de scurtmetraje "Horror Stories" din 2012. Dovada faptului ca e un regizor priceput in abordarea acestui gen e echipa de productie aflata in spatele acestui film, compania producatoare Peppermint&co. (ce a produs si celebrele succese I Saw the Devil si New World) si compania de distributie Little Big Pictures. Tinand cont de genul filmului, "House of Disappeared" nu a fost un succes de box-office, insa s-a descurcat acceptabil, obtinand incasari de aproape 1 milion de dolari. Mai mult decat atat, filmul a fost vandut dinainte de a fi finalizat in importante tari asiatice, precum Japonia, Taiwan, Filipine, Malaezia sau Vietnam. Vedeta filmului e cunoscuta si indragita actrita Kim Yunjin (Ode to My Father, Heartbeat, Harmony, The Neighbors), pe care din nou o vedem in niste ipostaze pe care le-a mai avut in filmele sale anterioara: detinuta – Harmony, mama in cautarea unei inimi pentru fiul bolnav – Heartbeat, locatara a unei case in care se intampla fenomene stranii – The Neighbors sau sotie iubitoare – Ode to My Father). O vedem pe Kim Yunjin imprumutand cate putin din toate aceste roluri, fiind la fel de impresionanta in interpretare ca de fiecare data. Starul k-pop Ok Taek-yeon (membru al formatiei 2PM), cunoscut mai ales din serialul "Who Are You" apare pentru a doua oara pe marele ecran in rolul secundar al preotului Choi. E evident ca prezenta lui in distributie e strict pentru imaginea filmului, elemental care ar fi trebuit sa vanda cat mai multe bilete in salile de cinema. Practic rolul sau e neinsemnat si putea fi interpretat de orice actor, dar cineva trebuie sa aiba grija si de promovarea filmului, nu ? In alte roluri secundare vedem cativa actori cunoscuti, precum Jo Jae-yun (sotul) sau Lee Han-wi (maestrul feng-shui).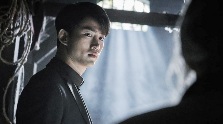 Desi investitia financiara in aceasta productie nu a fost una foarte mare, "House of the Disappeared" se dovedeste, in cele din urma, a fi unul din cele mai bune filme de mister coreene ale ultimilor ani. Chiar daca abordeaza o tema devenita cliseu la Hollywood – cea a casei in care se intampla tot felul de evenimente stranii -, productia reuseste sa se mentina la inaltime de la inceput pana la sfarsit, ocolind anumite tipare ale genului care de obicei trag in jos productiile coreene similare. Spre exemplu, "The Chosen", un film destul de asemanator, a dat gres in a placea publicului prin faptul ca a insistat prea mult pe specificul coreean, modul de dezvoltare al povestii de acolo fiind unul cu multe scapari, "gauri" in scenariu, cum ar spune criticii de film. Regizorul Lim Dae-woong, in stilu-i caracteristic, nu pune accentul pe latura horror, nu exploreaza latura instinctuala sau psihologica a personajului central, ci, din contra, misterul unor evenimente stranii si trairile interioare ale personajului feminin Mi Hui. Exista un mod aparte in care regizorul reuseste sa faca aceasta poveste sa te captiveze, explorand sentimentele, trairile cele mai profunde ale spectatorului, asa cum a facut-o si in "To Sir With Love". Fara sa observi, te atasezi de drama umana a femeii, chiar daca aceasta e plasata in interiorul unei fantezii misterioase. Iar prestatia lui Kim Yunjin e atat de convingatoare incat filmul nu poate decat sa te captiveze, in ciuda scenariului simplu pe care parca l-ai mai vazut in atatea si atatea filme de la Hollywood. "House of the Disappeared" cu siguranta si-a depasit conditia, aducand un suflu nou in peisajul filmelor de mister coreene care in ultimul timp prea au devenit "trase la indigo" ca subiecte abordate.
Traducerea si adaptarea au fost efectuate in premiera in Romania de gligac2002 (Asia Team) pentru asiacinefil.
Prezentare realizata de cris999 – asiacinefil