Home » NOUTÃŢI
Extratereştri, SF şi mult mister în "Circle: Two Connected Worlds"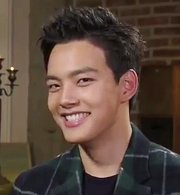 Nu cu mult timp in urma au aparut informatii noi legate de personajele serialului. Serialul este descris ca fiind un gen nou de serial stiintifico-fantastic, in care exista doua povesti ce se vor desfasura concomitent: o poveste se petrece in Seul, in zilele noastre, si cea de-a doua in Coreea anului 2037, unde oamenii incearca sa profite de extraterestrii care ajung pe Pamant. Interesant, nu? Spre deosebire de "Signal", cele doua lumi nu vor putea comunica. Este interesant de vazut cum se vor desfasura cele doua povesti ale scenariului, dar postul tvN nu este strain de seriale ce aduc ceva nou ("Signal", "Queen In-hyun's Man", "Answer Me 1997", "Joseon X-Files").
In prima parte a scenariului, Beta Project, Yeo Jin-gu ("Jackpot") il interpreteaza pe Kim Woo-jin, un stralucit student care se lupta sa supravietuiasca. Acesta descopera ca fratele sau geaman Bum-kyun care este jucat de Ahn Woo-yeon ("Strong Woman Do Bong-soon") este asociat cu un misterios incident soldat cu mai multe decese, ceea ce il determina pe Yeo Jin-gu sa porneasca in cautarea adevarului, cu orice pret. Gong Seun-yeon ("Introverted Boss") o interpreteaza pe studenta Han Jung-yeon, care este decrisa ca un geniu in inginerie. Aceasta duce o viata normala pana intr-o zi cand cea mai buna prietena a sa se sinucide, iar Jung-yeon incepe sa caute motivul gestului extrem facut de prietena sa, in acest fel dand peste Yeo Gin-gu care este si el in cautarea adevarului despre fratele sau.
Se presupune ca in partea a doua a scenariului, numita "Grand New World", viitorul omenirii depinde de controlul si reglementarea emotiilor oamenilor, acestia invatand de la extraterestrii care ajung pe Pamant si chiar profitand de acestia.
Seo Hyun-chul va interpreta rolul detectivului numit Hong Jin-hong care va investiga un caz atat in prezent cat si in viitor. Han Sang-jin va fi profesorul Park Dong-gun, iar Kwon Hyuk-soo va avea un rol amuzant in Coreea anului 2037.
"Circle: Two Connected Worlds" este un serial cu 12 episoade cu un scenariu scris de o echipa condusa de Ryu Moon-sang ("Guitar and Hot Pants", "Escaping Low Birth") si regizat de Min Jin-ki (SNL Korea). Serialul va fi difuzat la tvN incepand din 22 mai, dupa "The Liar and His Lover".
Articol realizat de chocolate_cleo – asiacinefil