Home » NOUTÃŢI
Edison Chen a rãmas un idol pentru tineri, însã cariera îi e la pamânt

Poate ca timpul nu vindeca ranile. La 2 ani de la scandalul fotografiilor indecente, popularitatea actorului si interpretului din Hong Kong Edison Chen in randul emisiunilor pentru tineri pare a nu fi scazut. Locuind in prezent in Los Angeles, actorul in varsta de 29 de ani a fost invitat la o emisiune de varietati la televiziunea taiwaneza, dedicata vietii studentilor. Actorului i s-a facut o primire calduroasa, care demonstreaza, se pare, ca statutul de idol al acestuia pentru tineri nu s-a alterat. Mai mult, studentele din public participante la emisiune au avut o tinuta provocatoare, iar cand gazda emisiunii a invitat pe una din ele sa cante o balada clasica ("Listen to the Sea") lui Edison, respectiva a rosit si, dupa 2 versuri, nu a mai fost in stare sa continue. Studentii baieti, pe de alta parte, aveau o admiratie pentru idolul lor, pe care l-au incoronat "Zeul modei".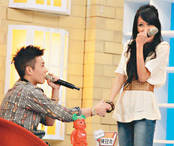 Unii dintre ei au dezvaluit ca hainele lor poarta marca liniei de haine deschise de starul chinezo-canadian, prilej cu care Edison i-a invitat pe acestia sa participle la inaugurarea unui nou magazin al firmei sale de haine in Taiwan. Si starul s-a tinut de cuvant, dupa emisiune managerul acestuia solicitand o lista cu numele celor prezenti pe platourile de filmare. Unii din cei prezenti au declarat ca Edison nu era atat de incordat precum la precedenta aparitie la o emisiune publica.
Actorul a fost marginalizat dupa scandalul din 2008. Anul trecut s-a lansat, dupa multe amanari, "Sniper", un film filmat inaintea scandalului, si actorul nu a mai avut decat un rol aproape de figurant in "Coweb", in acest an. Actorul a incheiat filmarile la "Almost Perfect" (film aflat in stadiul de post-productie), insa acesta e un film american cu actori chinezi nascuti in America, Edison fiind un anonim printer ceilalti actori cvasi-necunoscuti.
Articol realizat de cris999 © www.asiacinefil.com