Home » NOUTÃŢI
"Drama Special – Waltzing Alone" – vals şi negativismul dispeãarii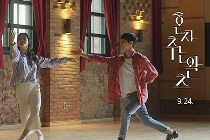 Min-seon si Geon-hee formeaza un cuplu in urma interesului comun aratat pentru vals, dar principala lor preocupare este gasirea unor locuri de munca in cadrul unor companii. Min-seon si Geon-hee sunt in stare sa spuna si sa faca orice pentru a fi angajati, oricat ar fi de nepoliticoase intrebarile de la interviuri sau de ciudate ar fi cerintele postului pentru care aplica. Seria de intrebari la care Min-seon este obligata sa raspunda, legate de viata ei personala, desi este justificata, e de-a dreptul deranjanta pana in punctul in care chiar si cand aceasta ofera un raspuns "corect", la finalul interviului inclusiv cei ce conduc interviul sunt deranjati de intrebari.
Cei doi tineri sunt fortati sa raspunda la telefoane la orice ora doresc sefii companiilor la care lucreaza, oricat de nepotrivita ar fi ora, fapt ce face ca relatia celor doi sa ajunga pe locul secund, primordial pentru ei fiind sa aiba niste locuri de munca decente. Sau cel putin asa pare…
In realitate, Min-seon si Geon-hee se iubesc cu adevarat si isi doresc niste locuri de munca mai bine platite pentru a putea asigura un trai decent in cuplu si pentru a scapa de numeroasele locuri de munca cu jumatate de norma in cadrul micilor magazine unde au parte de mai putina demnitate chiar decat la marile companii. Relatia dintre ei se raceste, Min-seon si Geon-hee sfarsind prin a se pierde in obsesia locului de munca.
"Drama Special-Waltzing Alone" poate fi catalogat ca melodrama romantica sau ca o punere sub acuzare a capitalismului, dupa ce se observa disperarea dusa pana la obsesie, lupta pentru un loc de munca mai bun. Ambele roluri sunt jucate foarte bine, negativismul este firesc si are un fundament real.
"Drama Special-Waltzing Alone" este regizat de Hwang Seung-gi si scris de Kwon Hye-ji, iar in rolurile principale joaca Moon Ga-young si Yeo Hoe-hyun (ce au aparut impreuna si in k-drama Mirror of the Witch, desigur, in roluri secundare). Productia de televiziune face parte din seria "Drama Special" a celor de la KBS, fiind difuzata pe 24 septembrie pe KBS2.
Articol realizat de chocolate_cleo – asiacinefil