Home » NOUTÃŢI
"Departures" este unul din cele 5 filme strãine cu şanse la Oscar
Elogiatul film al japonezului Yojiro Takita, "Departures" (Okuribito) a fost nominalizat la sectiunea "Cel mai bun film strain" a celei de-a 81-a editii a premiilor Academiei Americane de Film, care se vor decerna in mai putin de o luna. Aceasta este cea de-a 12-a nominalizare a unui film japonez la cunoscutul festival de film, anterioara fiind cea a lui Yoji Yamada din 2003 pentru "The Twilight Samurai". "Departures" a castigat, deja, o multime de premii, atat acasa, in Japonia, cat si peste granite, inclusiv Marele Premiu al Americilor de la Festivalul Mondial de Film de la Montreal. In plus, cel mai prestigios magazin din lumea filmului din Japonia, "Kinema Junpo", a numit "Departures" cel mai bun film japonez din 2008.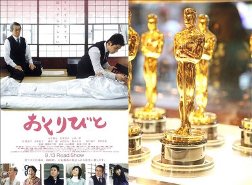 Fara indoiala, acest urias succes a influentat voturile membrilor Academiei Americane de Film, insa concurenta este una acerba, dupa cum reiese din lista data publicitatii saptamana trecuta:
The Baader Meinhof Complex (Uli Edel – Germania)
The Class (Laurent Cantet – Franta)
Revanche (Götz Spielmann – Austria)
Waltz with Bashit (Ari Folman – Israel)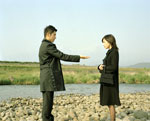 In ciuda bunelor referinte, a premiilor castigate si a aprecierilor criticilor, "Departures" are, totusi, putine sanse de izbanda, daca e sa luam in considerare traditia. In ciuda numeroaselor nominalizari, de-a lungul timpului, Japonia nu a fost niciodata o mare castigatoare la aceste premii. In cei peste 80 de ani de istorie a Oscarurilor, Japonia a castigat statueta suprema de doar 4 ori, prin: "Rashomon" (Akira Kurosawa, 1951), "Gate of Hell" (Teinosuke Kinugasa, 1954), "Samurai: The Legend of Musashi Miyamoto" (Hiroshi Inagaki, 1955), toate cu Oscaruri onorifice, si "Spirited Away" (Hayao Miyazaki, 2001) – Cea mai buna animatie. Raportat la cele 13 premii obtinute de Italia si cele 12 obtinute de Franta, premiile japoneze pot parea mai putin impresionante. Nu trebuie uitat, insa, ca Japonia a dat umanitatii filme extraordinare care nu au fost apreciate de Academia Americana de Film, iar asta nu a scazut cu nimic valoarea cineastilor japonezi in lume, care isi ocupa locul lor de frunte in istoria filmului mondial.
Marile favorite la aceasta sectiune raman castigatorul Palm D'or din 2008, "The Class", si "Waltz with Bashir" ce a castigat deja 3 premii importante: Cea mai buna animatie la Premiile Criticilor de Film de la Los Angeles, Cel mai bun Film Independent Strain (in Anglia) si, recent, Globul de Aur pentru cel mai bun film strain. Ramane de vazut care va fi optiunea votantilor Academiei Americane de Film, pe 22 februarie 2009.
Articol realizat de cris999 © www.asiacinefil.com