Home » NOUTÃŢI
Cel mai nou serial de epocă produs în Hong Kong şi-a încheiat filmările
Recent s-au incheiat filmarile la serialul de televiziune "The Legend of Pu Songling", ce va fi in curand difuzat in Hong Kong. Actorul din rolul principal, Steven Ma, a incercat sa-si asume rolul de "sef" si a facut cinste colegilor organizand un gratar pe proprietatea acestuia. Nu au putut participa la eveniment Linda Chung si Fala Chen, cele doua personaje feminine principale ale serialului, care se aflau peste hotare. Ma a aparut la eveniment cu mana dreapta bandajata, explicand ca se ranise la mana in timp ce incerca sa se catere in timpul filmarilor. Curios e faptul ca la inceputul anului 2009, un maestru Feng Shui il avertizase pe star ca va suferi un accident la maini sau la picioare. Si asa a fost. Datorita acestei rani, actorul nu a putut juca badminton, sportul lui preferat, cu colegii de filmare.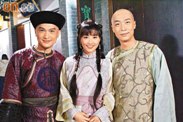 Steven Ma a motivat absenta colegelor ei de filmare, spunand ca Linda Chung a trebuit sa plece in Canada, unde are un contract de onorat, in timp ce Fala Chen a plecat in Macao. Mai mult, acesta a declarat ca el insusi va plece in cateva zile in Canada, aceasta fiind ultima intalnire a tuturor celor ce au participat la realizarea noului serial. Serialul i-a adus uneia dintre actritele celebre disitribuite, Charmaine Li, un job legat de realizarea unei reclame in China continentala, acceptand sa devina timp de 2 ani imaginea respectivei companii. Aceasta a spus: "Sunt fericita ca am obtinut o asemenea slujba in aceasta situatie economica dificila". Este stiut faptul ca in Asia, multe din vedetele unor filme fac repede pasul fie spre domeniul muzical, fie spre o cariera paralela in industria de entertainment si de reclame. Astfel de seriale pot transforma actori necunoscuti in vedete peste noapte, ele constituind o veritabila rampa de lansare a carierelor acestora.
"The Legend of Pu Songling", este un serial de epoca de 25 de episoade despre un discipol (Pu Songling – interpretat de Steven Ma) care s-a nascut cu misterioasa putere de a comunica cu animalele si cu fantomele. Serialul va fi difuzat in Hong Kong cel mai probabil in aceasta toamna.
Articol realizat de cris999 © www.asiacinefil.com