Home » NOUTÃŢI
"Along With the Gods"- efecte vizuale spectaculoase şi un mega-succes de box-office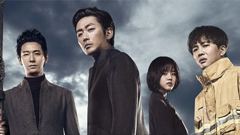 Avand ca tema parte a dogmei budhiste ce implica karma, judecata si reinvierea, si depanand o dureroasa poveste din viata de apoi, regizorul Kim Yong-hwa se intoarce dupa o pauza de patru ani, dupa comedia "200 Pounds Beauty" si mai recentul "Mr. Go". Cu un scenariu adaptat dupa webtoon-ul "Sinhwa Hamgge" (With God), "Along With the Gods: The Two Worlds" a avut un prim week-end excelent, tinand cont ca era in competitie cu filme precum "Star Wars: The Last Jedi" sau "Steel Rain" al lui Yang Woo-suk. Printre capetele de afis ale filmului se afla si starul din "The Handmaiden", Ha Jung-woo.
Dupa ce pompierul Kim Ja-hong, jucat de Cha Tae-hyun, moare la datorie, este intampinat de trei gardieni – Deok-choon (Kim Hyang-gi din "Thread of Lies"), Hewonmak (Ju Ji-hoon, "Asura") si seful lor Gang-lim (Ha Jung-woo), care il insotesc in viata de apoi cu ajutorul metroului. Fiecarui decedat ii este stabilit un avocat deoarece fiecare decedat trebuie sa treaca prin cele sapte judecati. Pompierul este informat ca, deoarece a fost un model demn de urmat in timpul vietii, se califica pentru reincarnare in 49 de zile, daca este achitat in cele sapte judecati ce au loc in sapte niveluri diferite ale Iadului. Aceste "judecati" se fac pentru a se demonstra daca Kim Ja-hong se face vinovat de vreo tradare, indolenta, violenta, minciuna, delasare, etc. Mai mult decat atat, gardienii acestuia, care devin automat si avocatii apararii, isi pot castiga si ei dreptul la reincarnare daca argumentele lor duc la castigarea "proceselor". Cei trei sunt blocati in aceasta dimensiune si isi doresc cu disperare sa scape, dar un spirit razbunator incepe sa urmareasca grupul, punand in pericol planul lor. Amestecul spiritului il determina pe Gang-lim sa investigheze, desi nu are cu adevarat voie sa intervina in treburile pamantesti si, curand, iese la iveala o istorie complicata a familiei ce se invarte in jurul mamei mute a lui Ja-hong, fratele Su-hong (Kim Dong-wook), un avocat cu aspiratii si o viata plina de saracie.
"Along With the Gods" abunda in efecte speciale, unele cam dezordonate, dar tocmai acestea sunt cele care prezinta cateva din partile mai accentuate ale mediului, precum dunele din desert din judecata lipsei de ascultare a parintilor sau muntii de culoare albastra care fac parte din judecata nedreptatii.
Desi unora filmul ar putea parea prea mult din punct de vedere tehnic si nu se poate compara cu celebrul film al lui Vincent Ward, "What Dreams May Come" in care a jucat Robin Williams, si este cam siropos, producatorii si-au dorit un film sentimental, plin de emotie, ce trimite cinefilii sa se gandeasca la calitatile oamenilor si ce inseamna sa fii "bun" in viata. Ha Jung-woo reuseste un rol un pic mai amuzant, dar in care aduce un pic din autoritatea delicata din "The Handmaiden", Lee Jung-jae este atotputernicul Rege al Mortii, Oh Dal-su si Lim Won-hee sunt procurorii din viata de apoi, iar Kim Sun-an este adolescentina Zeita a Amagirii, alaturi de Cha Tae-hyun reusind sa lase impresia unui echilibru de-a lungul intregului film.
"Along With the Gods" a avut premiera pe 20 decembrie 2017 si a strans pana acum o saptamana nu mai putin de 96 de milioane dolari incasari la box-office, fapt ce il transforma in filmul anului 2017 in Coreea de Sud, depasind la incasari " A Taxi Driver" cu mai bine de 12 milioane dolari.
Articol realizat de chocolate_cleo – asiacinefil