Home » DIVERSE
Actriţa-copil Rubina Ali din "Slumdog Millionaire" – implicată într-un scandal de proporţii !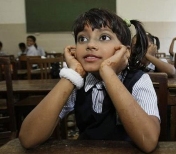 Un stire incredibila despre un fapt care se intampla pana si in lumea filmului a facut inconjurul lumii. Stirea vine de la Bollywood si depaseste orice imaginatie: tatal copilei-actor Rubina Ali (interpreta rolului Latika in copilarie), care a jucat in filmul "Slumdog Millionaire", a facut o intelegere cu un seic arab pentru a-si vinde fiica pentru 1,08 crore (1.080.000 rupii, aroximativ 21.000 $) ! O echipa de reporteri ai publicatiei "News of the World" a facut un reportaj cu camera ascunsa, deghizandu-se in seici arabi care i-au facut propunerea lui Rafiq, tatal copilei, sa-i cumpere fiica. O sursa spune ca "familia Rubinei a furioasa deoarece, in ciuda faptului ca filmul a avut un asemenea succes iar fiica lor a devenit atat de cunoscuta, ei inca traiesc in niste conditii mizere."
Intre altele, sursa a mai spus: "Cei din familia Rubinei s-au apropiat de o familie instarita din Orientul Mijlociu, care i-au vazut situatia dificila intr-o emisiune difuzata de postul Al Jazeera TV. Cuplul si-a manifestat interesul pentru adoptarea micutei Rubina, iar ochii parintilor acesteia au inceput sa tresara. Tatal Rubinei este inteligent si stie ca in curand succesul fiicei sale va fi uitat, si se va sfarsi cu momentul ei de glorie. El are o familie de hranit si pur si simplu nu-si permite sa o faca. Astfel se face ca acesta este interesat sa gaseasca o familie bogata care sa o creasca pe Rubina, insa doar daca aceasta familie e dispusa sa ajute intreaga familie a Rubinei sa scape de viata din mahala. Familia din Orientul Mijlociu a fost miscata pana la lacrimi de situatia critica a tinerilor orfani prezentati in "Slumdog Millionaire" si s-au atasat de Rubina. Dupa modelul unor vedete din Occident, precum Madonna, si acestia si-au dorit sa adopte copii din zonele sarace ale lumii si sa le ofere o viata mai buna. Aceasta familie a vrut sa o ia pe Rubina peste hotare. Au cazut de acord sa vina la Mumbai si sa discute problema adoptiei in luna mai a acestui an."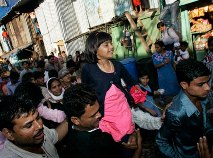 Propunerea odata facuta, l-a transformat pe Rafiq, tatal Rubinei, intr-o persoana extrem de lacoma, spunand ca se va gandi la cea mai mare oferta pe care o va primi pentru copila lui. Acesta a realizat ca, in curand, banii vor inceta sa mai vina de pe urma succesului filmului, astfel ca s-a aratat deschis la toate propunerile care i se faceau. Cand stirea ca totul nu a fost decat o inscenare a fost adusa la cunostinta presei, Rafiq a facut stanga-mprejur si a inceput sa nege ca ar fi incercat s-o vanda pe fiica lui vedeta. Acesta a afirmat cu nonsalanta: "Ei m-au contactat, spunand ca au fost miscati de saracia noastra, si ca seicul vroia s-o intalneasca pe fata. Cand s-a intamplat asta, au vorbit de adoptie. Dar eu am refuzat. De ce sa-mi vand fiica ? Vocea din inregistrare (care cere bani) nu e a mea. E o conspiratie, sa mi se ia fiica. Fosta mea sotie, Khurshid, e implicata."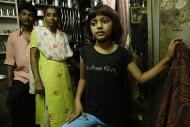 Tanara Rubina, care fara voia ei a fost implicata in acest scandal, mai intai a sustinut declaratia tatalui ei legat de faptul ca nu a vrut niciodata sa o vanda, dar ulterior a spus: "Nu stiu ce s-a intamplat. Pe cand ma intorceam acasa, tata m-a intrebat daca as vrea sa merg in Arabia Saudita. Am spus "da". Ei mai vorbeau, de asemenea, si despre niste pasapoarte pentru ei".
Cazul a starnit un val de indignare in India. Nu este primul scandal in jurul unor copii actori care au jucat in "Slumdog Millionaire". Cu nici 2 luni in urma, actorul-copil Azharuddin a fost palmuit in public de tatal sau deoarece a refuzat sa acorde interviu presei, pe aeroport. Probabil si acel tata realiza ca nu strica sa fii in atentia presei cat mai mult timp, din moment ce, inevitabil, intr-o zi, izvorul numit "Slumdog Millionaire" va seca. In India, peste 22% din populatie traieste sub pragul de saracie, avand un somaj ce depaseste 8% (peste 40 milioane de oameni) din populatia activa.
Articol realizat de cris999 © www.asiacinefil.com