Home » DIVERSE
A Special Lady (2017) – Kim Hye-soo şi Lee Sun-kyun, doi rivali speciali…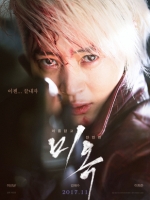 Kim este seful unei companii, JC Group, in spatele careia se afla o multime de afaceri ilegale. In urma cu multi ani, si-a pierdut sotia si fiul intr-un razboi intre bande, iar de atunci mana lui dreapta a devenit Na Hyun-jung (Kim Hye-soo), care se razbuna pentru el si isi asuma intreaga vina, fiind condamnata. Odata eliberata, aceasta devine secretara lui, avand o relatie privilegiata cu seful Kim. Anii au trecut, iar pentru Kim viata traita in umbra devine o povara, motiv pentru care decide sa se retraga. Nu inainte de a incerca o unificare a tuturor bandelor de gangsteri din district si de a aduce compania JC in legalitate. Omul pe care se sprijina in acest plan e Lim Sang-hoon (Lee Sun-kyun), pe care il cunoaste din perioada cat a stat cu el la orfelinat, ce se ocupa de treburile murdare in calitate de executant. Lucrurile insa se complica in momentul in care procurorul Choi, un client fidel al unui bordel de lux controlat de Kim, e santajat cu o inregistrare compromitatoare a unei nopti fierbinti cu o prostituata, de catre secretara Na. Acesta pune la cale un plan diabolic de a dezbina tabara lui Kim, iar consecintele vor fi tragice.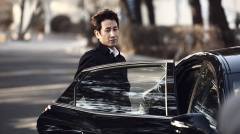 Lee An-gyu a lucrat ca asistent de regie la cateva productii celebre precum "Blades of Blood" sau "The Good, the Bad and the Weird", dar abia in acest an a debutat ca regizor si scenarist, cu "A Special Lady". Filmat pe durata a 5 luni in prima jumatate a lui 2016, productia ce a avut serioase dificultati financiare (dovada si durata neobisnuit de lunga a filmarilor) a fost amanata mai mult de un an de a aparea pe marele ecran. Intr-un final, a aparut in cinematografele coreene in urma cu 2 saptamani, fiind prezent si la a 50-a editie a festivalului de film fantastic Sitges din acest an, unde a castigat premiul Focus Asia. Filmul a obtinut incasari de 1,7 milioane de dolari la box-office in 2 saptamani de la premiera. In rolurile principale apar doi actori foarte cunoscuti ai filmului coreean, Kim Hye-soo (Coin Locker Girl, Modern Boy, The 11-th Mother) si Lee Sun-kyung (The Kings Case Note, A Hard Day, The Advocate" A Missing Body).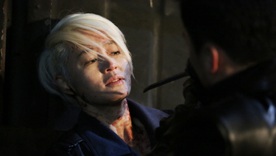 Filmul e o drama de actiune cu puternice accente noir, filmat cu multe cadre intunecoase sau semi-obscure, ca dupa manual. Scenariul este unul bun, pe alocuri previzibil, insa marele defect al productiei e durata ei redusa raportat la un subiect ce se impunea dezvoltat mai mult. Iar tinand cont ca e vorba de un film de actiune – actiune care in multe momente treneaza -, dezvoltarea legaturilor dintre personaje era un deziderat ce trebuia implinit pentru a mari coeziunea protagonistilor. Aici a riscat regizorul si a pierdut pariul, senzatia de ansamblu fiind ca asistam la un galop de sanatate, la o insiruire de evenimente spuse in graba, ce nu-ti dau timp sa respiri. Costumele protagonistei cu siguranta constituie o atractie, la fel si prestatia celor doi indragiti actori. Daca Kim Hye-soo atrage din nou atentia prin machiaj, stil si sarm, nu reuseste sa se transforme, in schimb, in eroina puternica pe care o reda trailerul filmului si la care ne asteptam cu totii. Adica un fel de Kim Ok-bin din The Villainess. Personajul ei nu are antrenament fizic, recunoaste chiar ca nu mai e ce a fost odata, iar dezlantuirea din final e doar o demonstratie nediocra de antitalent in a interpreta o eroina puternica fizic. Ne-am fi asteptat la o Kim Hye-soo din "Coin Locker Girl", dar ce a iesit e mai mult un personaj dur (ca lumea din care provine, cea interlopa) dar sensibil, ce mai degraba trebuie sa fie atent sa-si gestioneze sentimentele intre cele 3 personaje intre care e prinsa, decat sa dea cu cutitul sau sa foloseasca pistolul. Lee Sun-kyun e tot mai surprinzator de la un rol la altul. Daca in tinerete si-a dobandit celebritatea in roluri romantice, iata ca de cativa ani alege sa interpreteze roluri tot mai diferite. Astfel, daca in acest an a debutat intr-un film de epoca, chiar in rol de rege, in cele din urma a ajuns si la primul sau rol negativ dintr-un film de pe marele ecran. Si nu s-a descurcat rau, ba chiar a reusit sa induca o stare de nesiguranta spectatorului si de teama, semn ca a intrat bine in pielea personajului sau. Una peste alta, un film bun, nu extraordinar ca altele similare, dar bun, poate putin cam scurt si cu prea multe cadre intunecoase, ce ne aminteste inca o data ca specificul cinematografiei coreene sta in specularea la maxim a temei razbunarii, chiar cu riscul ca aceasta sa devina obositoare.
Traducerea si adaptarea au fost efectuate in premiera in Romania de gligac2002 (Asia Team) pentru asiacinefil.
Prezentare realizata de cris999 – asiacinefil