Home » DIVERSE
A Chinese Fairy Tale (2011) – remake-ul magic al celebrului "A Chinese Ghost Story"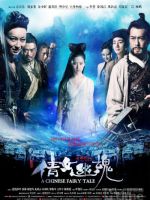 "A Chinese Ghost Story" (cunoscut si ca "A Chinese Fairy Tale") continua traditia din cinematografia chineza a filmelor fantastice cu si despre demoni si fantome. Unii au vorbit ca ar fi vorba de un remake al clasicului omonim al lui Tsui Hark din 1987, altii de un sequel al lui "Painted Skin" (2008). Cert este ca filmul a avut un buget de peste 10 de milioane de dolari, fiind inspirat dintr-una din povestile lui Pu Songling – "Strange Stories from a Chinese Studio", o colectie de povestiri fantastice a caror actiune se petrece in China antica. Proiectul a fost  produs de cel care a produs si "Painted Skin", Ketsarinh Lan, iar scenariul a fost semnat de Tan Cheung, scenaristul lui "An Empress and the Warrior". La origine,"A Chinese Ghost Story" e o comedie romantica cu accente horror produsa de celebrul Tsui Hark, in 1987. Inspirat dintr-o povestire traditionala chinezeasca din timpul dinastiei Qing, filmul din 1987 s-a bucurat de o popularitate imensa in Hong Kong si in intreaga Asie. Filmul l-a propulsat pe Joey Wong la rangul de mare vedeta a filmului din Hong Kong si i-a adus lui Leslie Cheung o mare popularitate in Japonia. Cu incasari de peste 18 milioane de dolari (un veritabil record in acele timpuri), "A Chinese Ghost Story" a reprezentat scanteia care a lansat moda filmelor cu fantome (de inspiratie folclorica) care inca supravietuieste in zilele noastre (mai putin in cinematografia din Hong Kong, si mai mult in cea a tarilor din zona: Thailanda, Japonia sau Coreea de Sud). In productia din 2011, distributia este una de zile mari, cu Louis Koo in rolul principal (Triple Tap, Accident, Connected), Louis Fan (personajul negativ din Ip Man) sau cu actrita unor seriale de epoca chinezesti cunoscute, Liu Yifei. Daca mai adaugam faptul ca regia este semnata de cunoscutul Wilson Yip (Ip Man si Ip Man 2, Flashpoint, Dragon Tiger Gate), avem in fata definitia unui film 100% spectaculos.
Ning este un oficial guvernamental trimis sa-si ia in primire postul intr-un indepartat sat de la poalele Muntelui Negru, undeva in China antica. Aici constata ca satul pe care urmeaza sa-l pastoreasca isi duce viata de pe o zi pe alta din cauza lipsei apei. In consecinta, Ning isi asuma sarcina de a cauta un izvor de apa prin apropiere, lucru pentru care trebuie escaladat Muntele Negru. Cu greu reuseste sa stranga cativa oameni care sa-l insoteasca, iar majoritatea sunt criminali inlantuiti trimisi sa-l apere in caz de nevoie. Comportamentul ciudat al satenilor cand vine vorba de escaladarea Muntelui Negru si sutele de talismane de jad agatate prin crengile uscate ale copacilor nu au trecut neobservate in fata lui Ning, insa abia pe munte avea sa afle sursa acestor ciudatenii. Aici gaseste, intr-un templu parasit, izvorul de apa mult cautat, dar acesta este pazit de demoni cu chip de femei. Stapana acestora, Lou Lou, le controleaza prin magie neagra si le ordona periodic sa gaseasca oameni pe care sa-i secatuiasca de energie pe care, astfel, sa le-o transfere ei pentru a se elibera din incatusarea in care fusese trimisa de armele magice ale luiYin Chek Ha (Louis Koo), un vanator de demoni. Una dintre fantome este Siu Sin, de care Ning se indragosteste imediat. In scurt timp sentimentul se dovedeste reciproc, iar dupa o serie de intamplari, cei doi incearca sa fuga de pe Muntele Negru. Copacul demon Lou Lou se opune, iar in final lucrurile se echilibreaza in momentul in care intra in scena nu unul, ci doi vanatori iscusiti de demoni, al caror trecut e legat de cel al fantomei Siu Sin.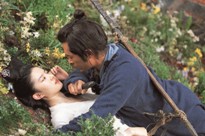 Dincolo de povestea captivanta – desi simpla in esenta -, "A Chinese Faity Tale" beneficiaza de efecte speciale – vizuale si sonore – de ultima ora, de imagini in miscare spectaculoase specifice filmelor wu-xia si de o coloana sonora superba, care intretin tensiunea scenariului. Filmul este dedicat de catre realizatori regretatului actor Leslie Cheung, cel care in 1987 a interpretat rolul tanarului indragostit de o fantoma (in remake-ul din acest an rolul revenind unui actor din China continentala, Yu Shao-qun, care in 2008 a castigat premiul pentru Cel mai bun debutant la a 3-a editie a Asian Film Awards pentru rolul din Forever Enthralled). Interpretarea actorilor este buna; se incearca crearea unui triunghi amoros care in final esueaza tragic, iar partial scopul lui a fost atins. La inceput lucrurile par putin neclare deoarece regizorul nu arata decat un eveniment din trecutul a doua personaje, iar mai apoi intra in scena un al treilea, care duce povestea mai departe, si care pe parcurs se intalneste cu acestia doi, iar povestea celor doi se pierde in povestea de iubire a lui Ning pentru Siu Sin. In rest, filmul este corent, placut de urmarit, pe alocuri amuzant, insa ramane un fantasy/drama in esenta, cu multe scene de lupta impresionante. Per ansamblu, 100 de minute in care nu te plictisesti, in care clasica poveste a luptei dintre Bine si Rau se muta intr-un decor de basm pe un munte, o lume fantastica cu fantome care… si ele mai comit cateodata pacatul de a se indragosti de oameni… Vizionare placuta !
Prezentare realizata de cris999 – asiacinefil.com