Home » NOUTÃŢI
A 22-a ediţie a Festivalului de la Busan se apropie de final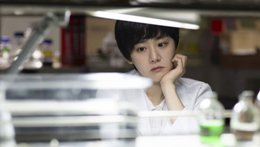 Unul din cele mai prestigioase festivaluri de film asiatice, Festivalul International de Film Busan (BIFF), a ajuns la cea de a 22-a editie, in acest an onoarea de a deschide Festivalul revenindu-i filmului "Glass Garden", regizat de Shin Su-won. Filmografia regizoarei cuprinde filme precum "Pluto" care a facut valva la BIFF-ul din 2012, reunsind sa fie invitat si la Festivalul de Film de la Berlin, un alt film fiind "Madonna" din 2015, care a fost premiat la Cannes, in acelasi an.
"Glass Garden" are ca personaj principal pe actrita Moon Geun-young, o tanara cercetatoare care traieste singura intr-o gradina de sticla, fiind observata de un scriitor interpretat de Kim Tae-hoon care scrie o carte despre ea. Este semnificativa alegerea ca un film coreean sa deschida Festivalul, dupa ce anul trecut a facut-o celebrul "A Quiet Dream". In sectiunea "Cinematografia coreeana de azi" sunt proiectate 16 filme, printre care celebrele deja "The Day After" al lui Hong Sang-soo, "A Taxi Driver" al lui Jang Hoon, "Anarchist from Colony" al lui Lee Joon-ik, "Okja" al lui Bong Joon-ho si "Battleship Island" al lui Ryoo Seung-wan. Pe lista apar si filme noi care apartin unor cineasti talentati precum Oh Muel cu "Mermaid Unlimited", Shin Yeon-shick cu "Romans 8:37" si Pang Eun-jin cu "Method".
La sectiunea "Vision" intra 11 filme printre care "A Tiger in Winter" al lui Lee Kwang-kuk si "Mothers" al lui Lee Dong-eun. Printre filmele selectate pentru sectiunea "New Currents" concureaza titluri precum "How To Breathe Underwater" al lui Ko Hyun-seok si "Last Child" al lui Shin Dong Seok, "Mother!" al lui Darren Aronofsky si "Manhunt" al lui John Woo. Filme notabile precum cel de anul trecut – "Merry Christmass Mr. Mo" si "End of Winter" din 2014 care a fost invitat la Festivalul de la Berlin si care a si castigat premiul la categoria "New Currents", in trecut, au devenit cunoscute publicului si datorita participarii la BIFF. In juriul din acest an al acestei sectiuni se afla si Oliver Stone .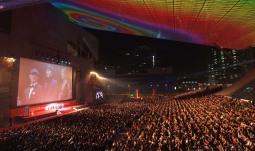 Desi festivalul se concentreaza asupra cinematografiei si talentelor locale, este evidenta lista impresionanta de filme ce fac parte din cinematografia internationala, peste 300 de filme din 75 de tari, din care 100 de premiere mondiale urmand a fi vizionate la BIFF.
Pasionatii de cinematografie au ocazia sa vada filme care au participat cu succes si la alte festivaluri, precum "The Florida Project" al lui Sean Baker, "Wonderstruck" al lui Todd Haynes, "Battle of the Sexes" in care joaca Emma Stone si Steve Carell si comedia S.F "Downsizing" a lui Alexander Payne, care sunt pe lista sectiunii "World Cinema".
Productia britanica "God's Own Country" regizata de Francis Lee, in care unul din rolurile principale i-au revenit lui Alec Secareanu, despre sosirea unui emigrant roman la o ferma din Yorkshire, care a fost apreciat de criticii din Regat, face parte din sectiunea "Wide Angle".
Numeroase productii japoneze intra in diferite sectiuni, incepand de la "Outrage Coda" al lui Takeshi Kitano care a fost difuzat in afara competitiei la Festivalul de la Venetia, "The Third Murder" al lui Hirokazu Koreeda si "Narratage" al lui Yukisada Isao.
Anul acesta in cadrul festivalului este inclusa o retrospectiva a actorului Shin Seong-sil, unul din cei mai emblematici actori coreeni, care a jucat in peste 500 de productii. Opt filme in care a jucat actrorul vor fi prezentate publicului, printre care "The Barefooted Youth" (1964) al lui Kim Ki-duk si "Mist" (1967) al lui Kim Soo-yong.
Festivalul are si o sectiune dedicata cinematografiei din Republica Saha (Iacutia) si va difuza sapte filme ale regizorului japonez Suzuki Seijun, printre care si "Tokyo Drifter" si "Branded To Kill".
Festivalul se va incheia cu premiera mondiala a filmului "Love Education" in care si joaca Sylvie Chang, despre trei femei din diferite perioade ale istoriei Chinei.
BIFF isi va inchide portile pe 21 octombrie.
Articol realizat de chocolate_cleo – asiacinefil