Home » NOUTÃŢI
"2 Days and 1 Night", celebrul show coreean, trece Oceanul !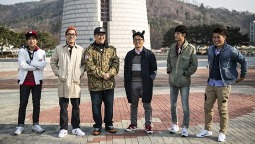 Popularul show de televiziune coreean al postului KBS, "2 Days and 1 Night", ajuns la sezonul 3, isi va lua echipa de productie si vedetele si… va trece Oceanul ! Ieri, producatorul show-ului, Yoo Ho-jin, a declarat unei agentii de presa ca echipa de vedete si stafful de productie isi vor lua zborul spre Los Angeles pe 6 septembrie, pentru o aventura de 6 zile pe continentul nord-american. Va fi pentru prima oara cand echipa "2 Days and 1 Night" va trece granitele Coreei pentru realizarea show-ului. Desi calatoria a fost initial programata pentru luna iunie a acestui an, datorita izbucnirii epidemiei MERS (care tocmai s-a anuntat oficial ca s-a incheiat) a fost amanata pentru septembrie. Producatorul Yoo a mai adaugat: "Nu am decis, inca, asupra unui format specific. Suntem in prezent in discutii. Consideram ca Los Angeles va fi distractiv pentru show. Din moment ce sunt multi coreeni ce traiesc acolo, membrii vor putea interactiona mai usor cu ei."
"2 Days and 1 Night" e unul din cele mai longevive reality-variety-show-uri din Coreea, prima editie a sa fiind difuzata in august 2007. De-a lungul celor 8 ani de existenta, din distributia show-ului au facut parte diverse vedete; unele au parasit emisiunea datorita de exemplu serviciului militar obligatoriu si au revenit la incheierea lui, altele au renuntat pe parcurs, fiind inlocuite. In prezent show-ul se afla la al treilea sezon, insa primul sezon a durat din 2007 pana in 2012. 4 scenaristi si 4 regizori a avut show-ul pana in prezent, ajungand la episodul 400 (saptamanal fiind difuzat un episod, in fiecare duminica seara). In prezent, vedetele show-ului sunt Cha Tae-hyun, Kim Jun-ho, Kim Jong-min, Kim Joo-hyuk, Joon Joon-young si Defconn.
Articol realizat de cris999 – asiacinefil